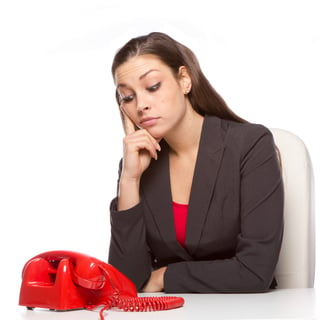 Over the past year or so, we have noticed it has become increasingly difficult to connect with contacts at insurers. There are plenty of companies that will accept an inbound call, but at the right time. If you happen to have a product or solution the insurer is searching for at that specific time, your timing is perfect. Unfortunately that's not the case the vast majority of the time and knowing when to make that outbound call is key.
To make prospecting even more challenging, an increasing number of insurers are adopting a "don't call us, we'll call you" policy. There are some valid reasons for this change in attitude. Here are some examples of what you may hear from an insurer and what may be driving their change in attitude.
"We don't take calls from vendors"
There are a few reasons why you may hear this response. The most popular is that contacts such as the CIO, CTO, claims, underwriting, operations and other line of business executives are receiving hundreds of calls per day. This alone can overwhelm these contacts and their administrative staff who may answer their phones.
If you're leaving a voice mail, that's one of a hundred voicemails that may never be listened to. Would you have time to take over one hundred calls or listen to 100 voicemails per day?
"Please contact our Vendor Relations group"
We've heard from insurers one reason they employ this policy is that some type of project didn't go through normal channels and went sideways. The insurer was burned by a solution provider that was not properly vetted or set expectations they could not meet. Many times an insurer will ask you to register on the vendor relations page on their website before accepting any information.
"Send me your information and I'll forward it to the appropriate group"
If you know the contact and have worked with that person in the past, this is a valid request. Many times, especially with executives, they want permission from a peer before giving out their contact information or making a referral. If you don't have any relationship with the contact, chances are the information you send them isn't of interest and you'll never hear back from them.
The bottom line is that you have to make it easy for insurers to find you and understanding the insurance buying cycle is the first step. When there is a project or initiative that involves the purchase of a product or solution, the individuals working on that project will start with researching online.
The good news is these individuals are precisely the contacts you want to engage with. If they can find you online and educate themselves on your product or solution, they will engage with you when the timing is right. Now making that outbound call is something to look forward to rather than being turned away until the timing is right.
---
Interested in learning more? Click on the button below to download our free eBook "Understanding The Insurance Buying Cycle."