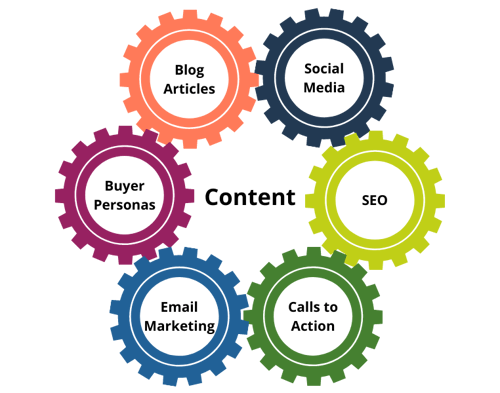 If your company has invested in the HubSpot Marketing Hub™ marketing automation system, chances are it's not being used to its maximum potential. Many businesses claim that marketing automation isn't working for them. In either case, their system becomes a very expensive CRM or email marketing platform.
There are two simple reasons why organizations struggle with marketing automation:
Lack of content - When it comes to inbound marketing, content is king, and many organizations struggle to develop content on a regular basis. Content is the fuel for any marketing automation engine, and without it, why buy the engine in the first place?
Lack of execution - Marketing automation systems are designed to promote large amounts of content across multiple marketing channels on a consistent basis across all stages of the buying cycle. If you don't push the content out, you won't generate traffic to your website to generate leads that can be converted into new customers and revenue.
10 signs that your marketing automation system may be underutilized
#1 – You're not creating enough content
Rule #1 for inbound marketing is that "Content is King." Your content must be meaningful and useful to your readers. If you can't get your reader's attention, and keep it, they will lose interest and search elsewhere for the information they are looking for.
#2 – You don't understand your buyer's personas
Understanding your audience is Marketing 101, and by developing buyer personas, you can target your content to the appropriate audience.
#3 – You're not using keywords and search engine optimization
To help interested buyers find your content online, you need to attach keywords to your blogs. Without keywords, you cannot optimize your content for on-page SEO. Additionally, every page on your website should be optimized. This includes website pages, landing pages, blog posts and emails.
HubSpot Marketing Hub™ provides excellent tools to help you make sure your website pages, landing pages, email campaigns, and blog articles are optimized for on-page SEO.
#4 – You haven't created a marketing campaign
The purpose of creating marketing campaigns is to develop a measurable plan for a specific piece of content or offer.
#5 – You're not blogging consistently
One blog post per month isn't going to cut it. To drive traffic to your site, you should plan on blogging 3 – 5 times per month at a minimum. Per HubSpot, organizations that increase blogging from 3 -5 times per month to 6 – 8 times per month almost double their leads.
Blogging may not seem as enticing as publishing a Vlog. Why not do both? Blogging is important for the domain authority of your website so people in need of your products and services can become aware of your organization.
#6 – Email Marketing campaigns are not targeting the appropriate market segment
Email marketing is not simply sending out "email blasts" to everyone. You need to identify the market segment(s) you're going after, and tailor your message to that audience.
#7 – You're not pushing your content to social media
Today 84% of B2B marketers use social media in some form for the simple reason that social media has a 100% higher lead-to-close rate than outbound marketing. Promoting your content via social media is easy to do with a marketing automation system. For example, blog posts can be scheduled ahead of time and automatically post to LinkedIn, Twitter, Google+ and Facebook at a particular time or date.
The HubSpot Marketing Hub™ Pro includes the Social section making it simple to publish, monitor, and analyze all your social media posts.
#8 – Your website doesn't have enough CTAs
The best websites can be well designed and showcase their company's products, services, and useful information. However, without calls-to-action, you are limiting how an interested buyer can engage with you. There should be multiple landing pages to capture inbound leads no matter where they are in their buying cycle with:
TOFU: Top-of-the-Funnel Offers; ungated access to blog posts, datasheets, infographics, overview videos of your company, product or service, and customer testimonial videos

MOFU: Middle-of-the-Funnel Offers; eBooks, whitepapers, and case studies

BOFU: Bottom-of-the-Funnel Offers; some type of free assessment, evaluation or trial
HubSpot reports that companies with 30 or more landing pages generate 7x more leads than those with fewer than 10 landing pages.
#9 – You're not using automated workflows
Having automated workflow capabilities is a wonderful thing that can increase productivity. Workflows can score your leads based upon their activity, and help you identify which ones need to be nurtured. They can also be used for email drip campaigns based on a specific date or time or triggered by an event.
If you're not using automated workflows, you are missing potential opportunities in addition to your valuable time being wasted.
#10 – CRM Utilization
All marketing automation systems have some type of integration with CRM systems, and several such as HubSpot have an optional CRM system as part of their marketing platform. Enabling integration between your marketing and CRM platforms will help create tighter alignment between your sales and marketing organizations.
Simple things like adding, changing or deleting contact and account information can be easily accomplished. By using workflow capabilities, your marketing system can automatically score inbound leads and immediately notify the appropriate salesperson about the opportunity.
Conclusion
To successfully accomplish the goal of generating new leads on a consistent basis, all components of the marketing automation system need to be utilized. These capabilities were designed to work together. This is the benefit of making an investment in a marketing automation system.
Some companies use multiple tools from different vendors and piece them all together to create their own marketing system. In our experience, this type of set up causes confusion and extra work. It may appear to cost less, but in the long run, it isn't.
Any marketing automation system is simply a platform to execute your marketing programs, and the results are only as good as the content you provide and the effort given.
---
Click on the link below to learn how we can help optimize your HubSpot Marketing and CRM environments.