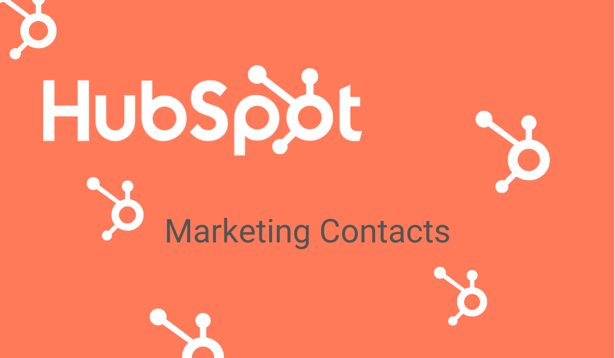 One point of contention for organizations considering investing in the HubSpot Marketing Hub™ has been resolved: the tiered pricing structure based on the number of contacts. Unlike other marketing automation platforms, HubSpot does not charge per user, but they charge for the number of contacts, and that can get expensive quickly.
Background - More is Better
We all tend to collect way more contacts than we expect, but when you meet someone at a trade show (in person or on Zoom), the most logical thing to do is add them to your CRM.
In our CRM, we like to keep a historical view of contacts as they move from one company to another. Even if a contact's email address is no longer valid, we don't delete the contact. Maintaining the historical information keeps us from re-adding that same contact with the same invalid email address in the future.
If you're like me, you may identify a contact with an invalid email address one day and completely forget about it a week later. Keeping that contact's information in our database will keep me from adding him back in a month later. Wouldn't it be great if we could have as many contacts in our HubSpot database but only pay for the contacts we want to market to?
Having the ability to store an endless number of contacts is our desired practice and works fine in HubSpot's CRM, where you can have unlimited contacts. The issue is when you use HubSpot's CRM along with their Marketing Hub. As our contact database grows, so does the cost of keeping this information in HubSpot. There are many contacts in our database that we have no intention of marketing to, but we still want to keep that information. This has been a huge point of contention for our customers and us as well.
The "Work-around"
We have often heard our customers speak of their need to house all their contacts within one CRM and marketing automation platform. In many situations, HubSpot's pricing model made this cost prohibitive. Why would you want to pay for contacts that you can't or don't want to market to?
To keep the number of their contacts to a minimum, many customers have resorted to keeping a separate list of contacts outside of HubSpot Marketing Hub™. They are also forced to delete those contacts that have bounced or don't plan on sending marketing material to but would still like to maintain (like those who apply for a job on their website). This is counterintuitive to what HubSpot is all about - productivity.
A Better Pricing Structure
Starting in October 2020, HubSpot has made it easier for us by rolling out a change to their pricing structure. They have introduced Marketing Contacts that provides the following:
You only pay for the contacts you want to market to using email or ads
You decide on the number of marketing contacts you want to focus on at any given time
At no cost, HubSpot now allows you to store up to 1 million contacts in your HubSpot CRM
Marketing Contacts finally provides you with a more cost-effective and affordable pricing model for HubSpot Marketing Hub along with more flexibility, allowing you to only to concern yourself with the contacts you want to target your marketing efforts towards.
One of our clients has over 30,000 contacts in their Salesforce Enterprise CRM. They have been interested in HubSpot Marketing Hub™ for a while now, but the pricing structure has been a sticking point.
As a result, they've been struggling with another marketing automation platform that is just not as robust. With the introduction of Marketing Contacts, they are in a better place to now implement HubSpot Marketing Hub and take advantage of all that it has to offer.
Conclusion
We are thrilled that HubSpot listens to their partners and implemented this change. As they put it, all contacts are NOT equal, and we should not be charged as if they are.
If you are considering HubSpot Marketing Hub, HubSpot has mapped it all out for you and clearly explains the difference between the contact plans.
If you already have HubSpot, you can convert to Marketing Contacts or remain with your current pricing model. Check out their Knowledge Base article laying it all out for you.
Interested in learning more? If you're an existing HubSpot customer, we can help you determine if changing to the new HubSpot Marketing Contacts license makes sense for your organization. Request a free strategy session
Trying to determine if HubSpot is right for your organization? Click on the image below to download a free guide on running an inbound marketing campaign.