---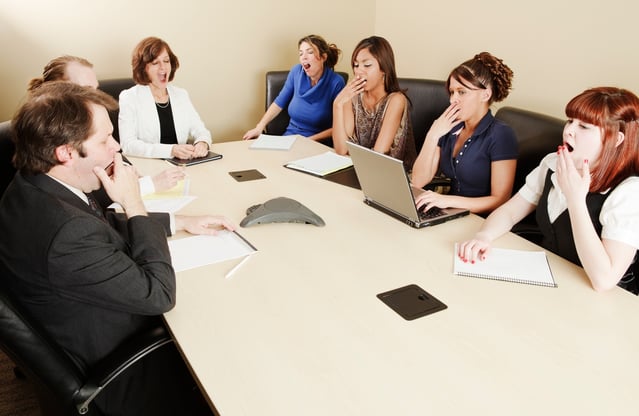 Many solution providers make the buying experience an unpleasant one. Their approach to engaging with an interested buyer is to tell them everything about their product or service, without fully understanding what the insurer needs. This is an outdated legacy sales approach that goes back to the days when you needed to contact a salesperson to receive any information on a company and their offerings.
---
Four Common Mistakes Legacy Salespeople Are Making Today
Today's buyer is more educated than ever before. Most solution providers have a wealth of information and knowledge on their websites that makes it easy for a buyer to educate themselves on the solution provider's products and services. In addition to what is available from the solution provider, there are product reviews, industry reports, surveys and other content from industry analysts, media outlets, and consultants.
This has shifted the role of the salesperson more towards the bottom of the sales funnel when the buyer is in their decision stage. They have already educated themselves on the product or solution they are interested in. At this point, the buyer needs to engage with someone with insurance domain knowledge who can help them understand how their product or solution will solve a particular need or take advantage of an opportunity.
Below are some common mistakes made by companies following a legacy sales approach.
Mistake #1: Listen to our generic sales pitch
The most common scenario is when a qualified lead is given to the salesperson to follow-up with. Rather than scheduling an exploratory call to understand further what the buyer's needs are, the salesperson goes into presentation mode and schedules a conference call to give a generic presentation and demo.
What the salesperson is really saying to the buyer:
"Let's schedule a time where I can give you a presentation and demo of our company, products, and services. I'm going to tell you everything and anything about our company, products, and services; then you can figure out what you need."
The presentation focuses on everything and anything the company can provide and many times this turns out to be repetitive for the buyer. Just about all the information in the presentation can be found on the solution provider's website. There is little to no new information for the buyer.
A better way of spending this time with a prospect is to have an exploratory discussion to develop a better understanding of their needs. This will help you develop trust with the buyer and uncover more of their goals.
Once the exploratory call is completed, for the next meeting the salesperson could deliver a custom presentation tailored to the buyer and based on the information learned during the exploratory call.
Mistake #2: Watch our generic demo
The next mistake is giving a demo that is not relevant to the buyer's need. Most buyers want to see a demo of your system. The last thing they want to see is a scripted or generic demo.
What the salesperson is really saying to the buyer:
"Next, I'm going to give you a scripted demo of our system that isn't relevant to your business. You can figure out how this would apply to your line of business."
The best approach when it comes to demos is make it custom. There are many forms of custom demos ranging from loading up customer data to having role-based or line-of-business demos.
If you are going to demo your system to a personal lines claims buyer, don't show them a commercial line claims demo. Make the demo as relevant to your buyer as possible. The best demos we have seen are role-based demos. For example, if your audience is a claims manager, give them a demo of how a claims manager and the adjusters they oversee would use the system.
A custom demo combined with a custom presentation mentioned in the previous section will be far more useful to your buyer and will leave a lasting impression.
Mistake #3: Let's do a POC, test drive or trial
After 75 minutes of PowerPoint slides and a generic demo, the salesperson asks if there any questions. Maybe there are some questions, maybe there isn't. In fear that the next step will be "we'll discuss what we've learned internally and get back to you," the salesperson rushes into "would you like to sign up for a POC?"
Since there was no immediate reaction from the buyer after the generic presentation and demo, the salesperson's hope is maybe exposure to the solution itself will result in a buying decision.
For most insurers, signing up for a POC, test drive or trail requires them to invest the time of business and IT resources. If your buyer doesn't understand how your product or solution can solve a problem for them, they will be hard pressed to make this investment.
Having the option of a POC, test drive or trial for your solution is a good idea for buyers once you have educated them on how your solution can solve their problem. Jumping into one prematurely with your prospect is not.
Mistake #4: Trying to be all things to all people
Insurance executives and decision makers have told us repeatedly that they do not expect any one vendor to fill every need they have. Their preference is to work with a salesperson that has the appropriate insurance industry expertise, can clearly articulate what their product or service can do, and what it cannot do. Many of these executives have been burned in the past by salespeople who have oversold or overpromised what their company can provide.
Building trust and developing a good relationship is a fundamental component to successfully selling to the insurance industry. Once you establish trust with an insurer, they will share more information with you to help them solve a challenge or pursue an opportunity on their agenda.
---
Conclusion
The number one mistake salespeople can make with insurers is not entirely understanding their needs. Rather than assume you know what an insurance carrier, MGA, TPA or Self-Insured organization needs, invest the time in really understanding how you can help them. Salespeople must add value beyond what information the buyer can find themselves online.
Generic presentations and demos are part of an outdated legacy sales process. They will also be a disadvantage against competitors who are investing the time in custom presentations and demos. Rushing into a POC, test drive or trial of your solution is not a substitute for educating your prospects on how you can help them.
By avoiding the four common mistakes above, you will have a better understanding of the insurance carrier's requirements and can help them understand how your product will solve their needs.
---